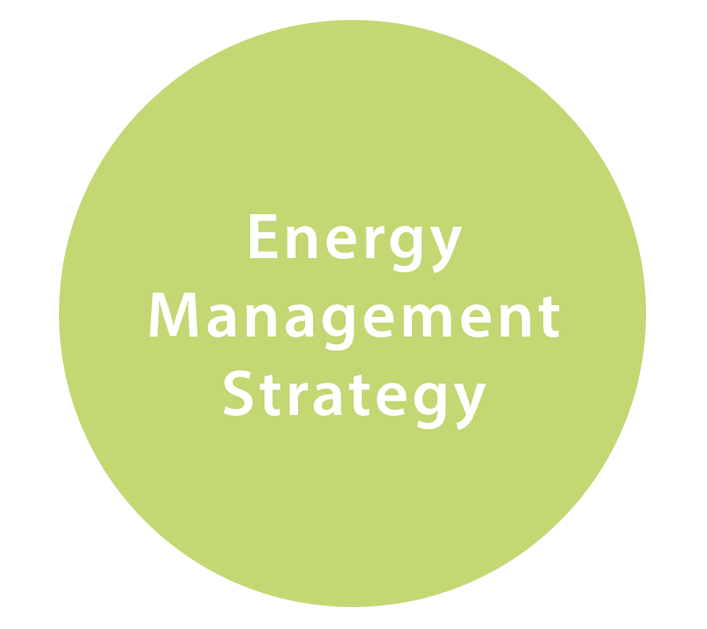 We at OUCC fully understand that "energy saving" and "intelligent operation" are vital for enterprises that are striving to adapt their operations to a low-carbon economy, and also achieve sustainable operation. To this end, we have introduced the ISO 50001 energy management system, which is effective from 12/13/2021 till 12/13/2024, improve the cycle through PDCA, keep track of energy usage status, work out some appropriate energy management goals, improve energy efficiency in the plant area, and reduce our greenhouse gas emissions.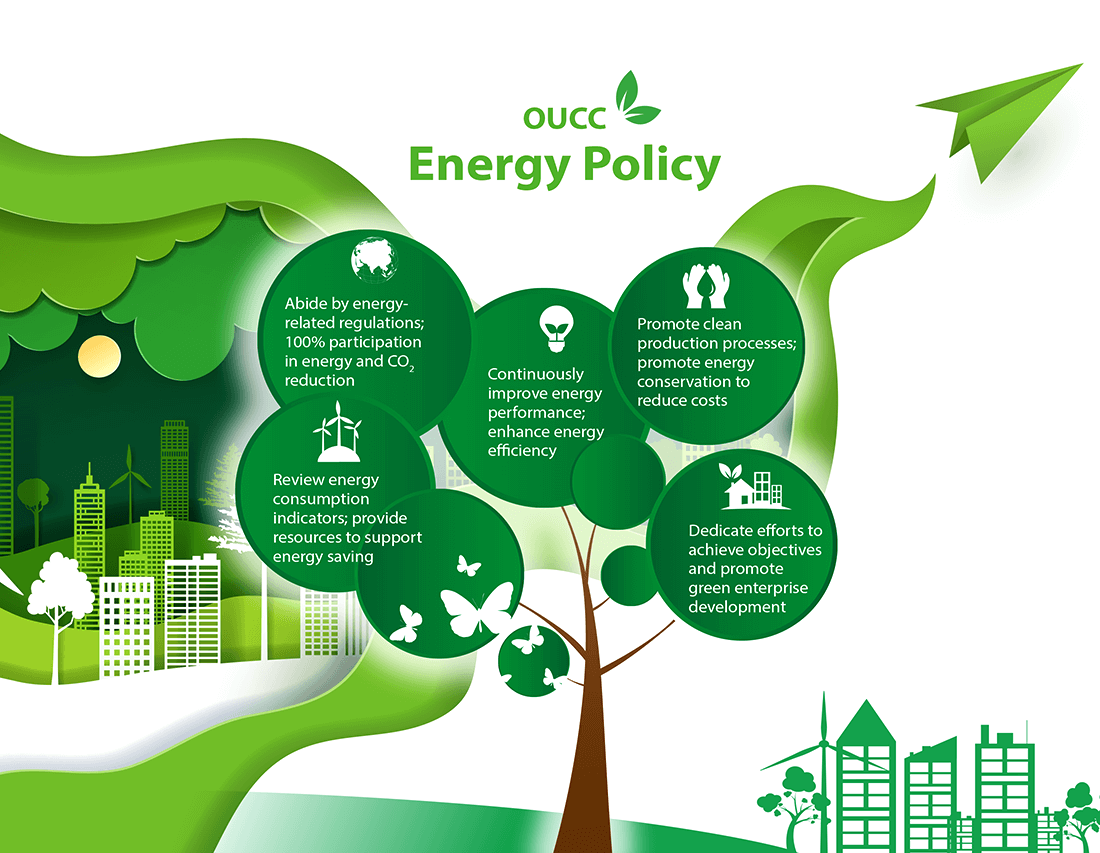 Energy Consumption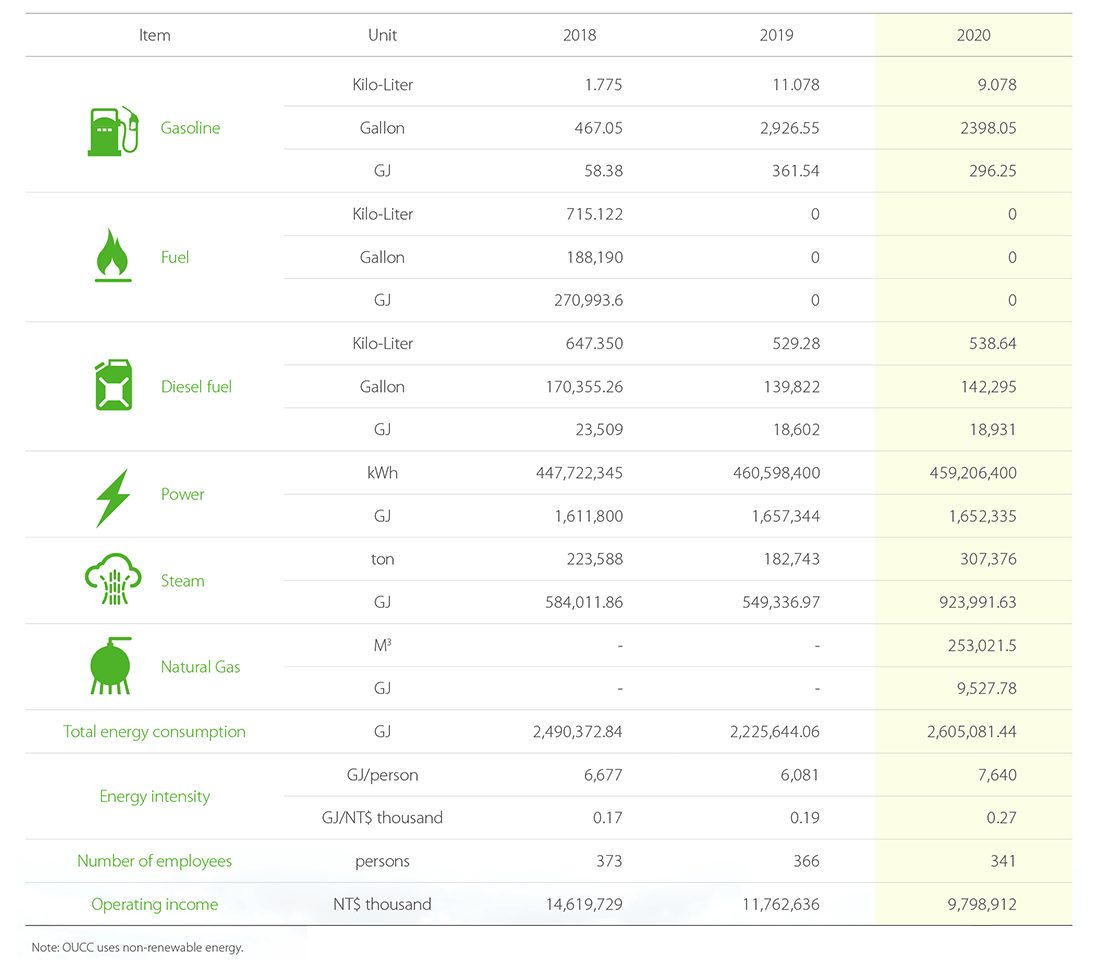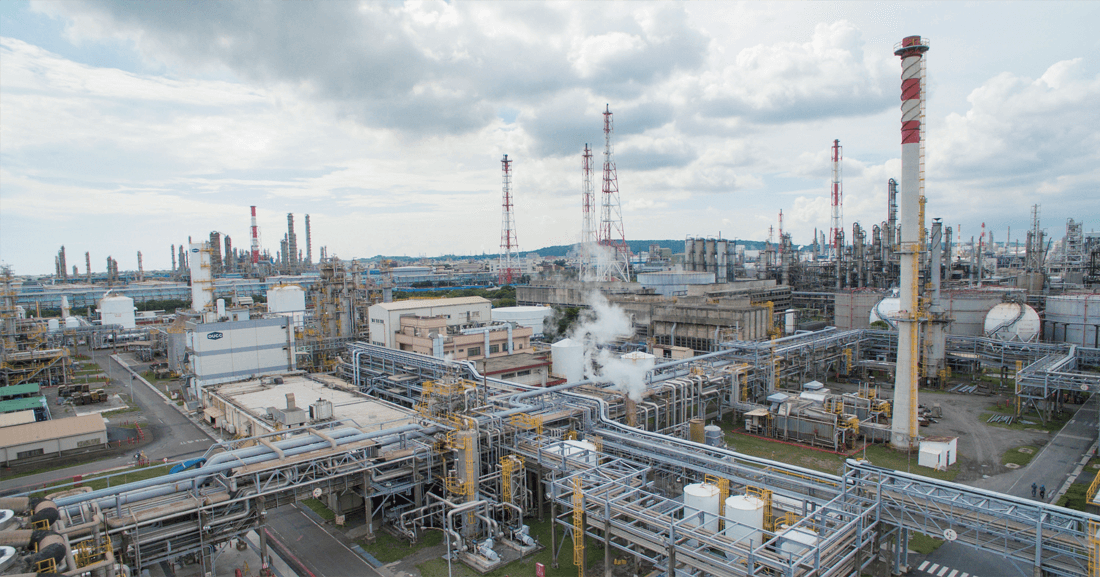 Power Management Target and Action Plans
According to the inventory data, 70% of the OUCC greenhouse gas emissions came from electricity. As a response, we set a "power-saving" goal by promoting a series of power-saving measures, looking for suitable fuel- and steam-saving solutions. Under effective management, the actual annual power saved was about 4.76 million kWh in 2020, with a power-saving rate of 1.03%.
Action Plan for Energy Saving
The feasibility of a high-efficiency low-carbon heat and electricity cogeneration system at the Linyuan Plant is being evaluated as a response to the official government energy policy. We anticipate that the electricity and steam will fulfill all the requirements for production. Additionally, to comply with the "Regulations for the Management and Setting up of Renewable Energy Power Generation Equipment for Power Users Over Certain Contract Capacity", the following proposals "set-up of a renewable energy rooftop photovoltaic system", the "purchase of green power and certificates", and the "set-up of energy storage equipment" are being actively evaluated. It is hoped to achieve the legal obligation of 10% green power in five years.

In addition, OUCC makes full use of technological advantages to promote clean processes, using a cloud based "factory power monitoring system platform" to monitor energy usage by the plant with the structured approach, in search of energy-saving opportunities. In addition, carbon reduction measures in a number of office area have been promoted, including electronic administrative operations, monitor and control of photo-copying over the entire factory, and the promotion of a paperless system for online management, contributing towards reducing greenhouse gas emission.
2020 Energy Efficiency Improvement Results

Energy Saving Improvement Results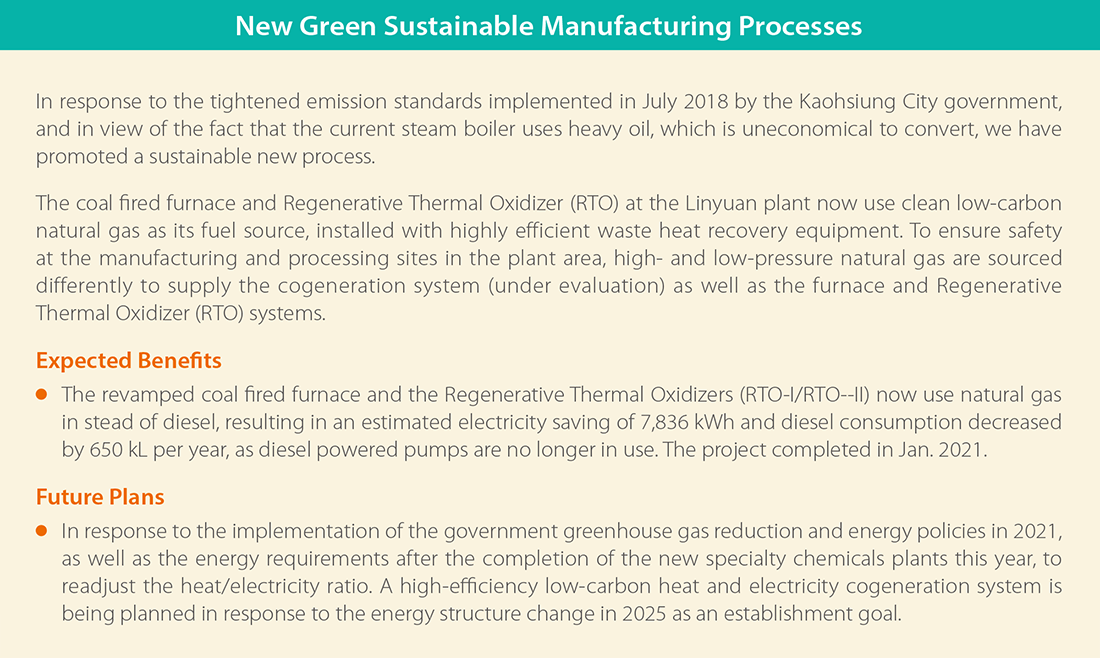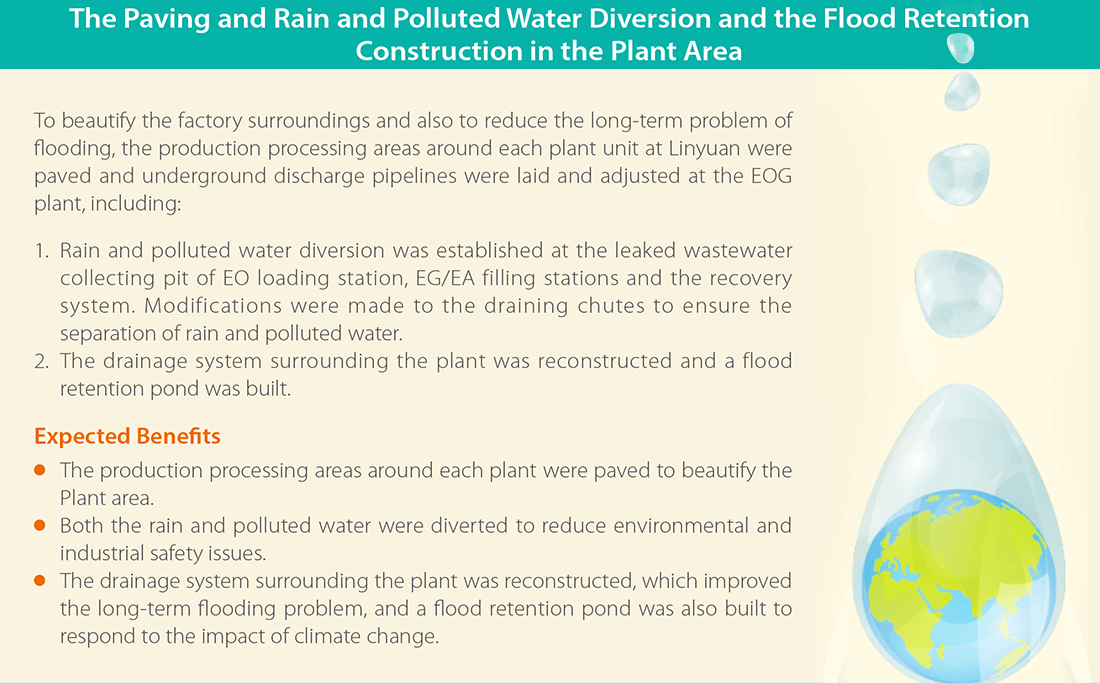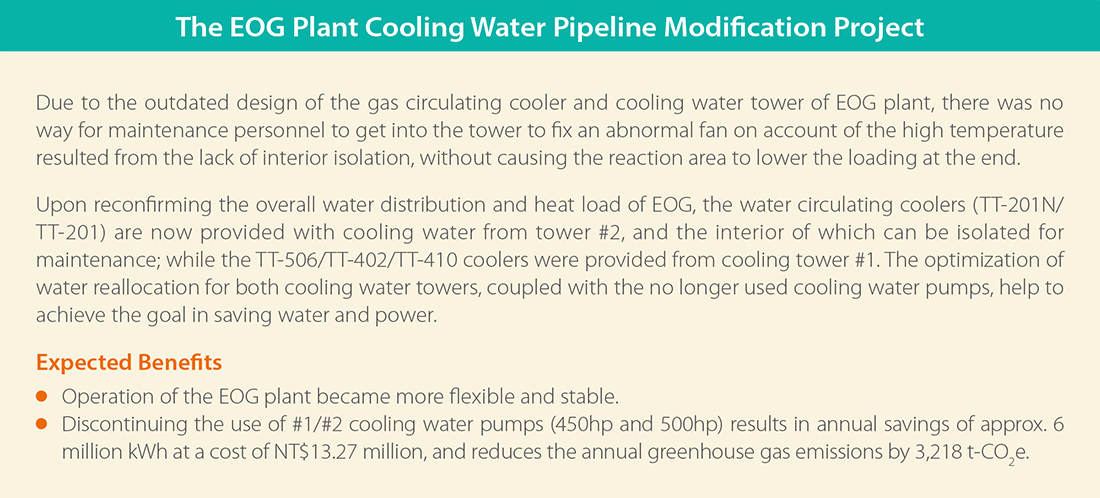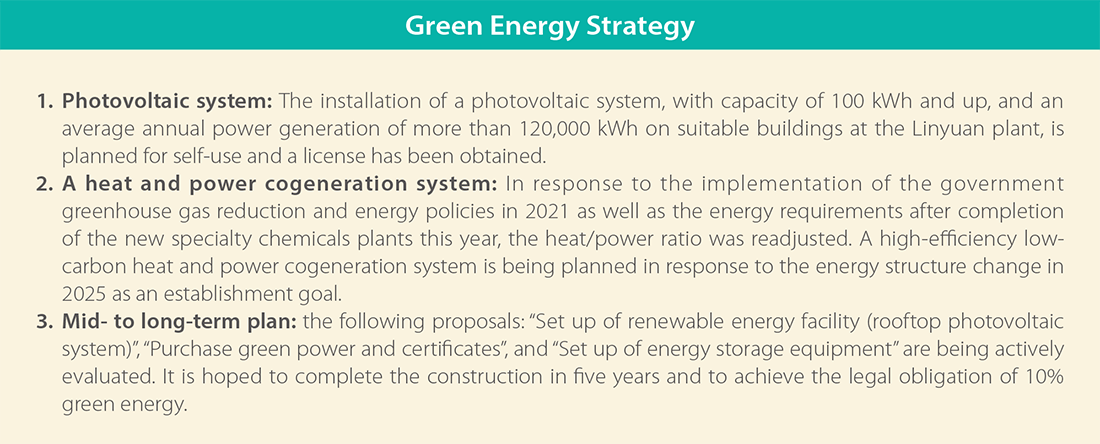 The Mitigation of Transportation Emission
In response to the need to save energy and reduce carbon emission, we require employees at the Linyuan plant, the main manufacturing base of the OUCC, to take use of the company shuttle bus, or to join the carpool system for commuting, so as to cut down on the use of vehicles and reduce the indirect emission of greenhouse gases.