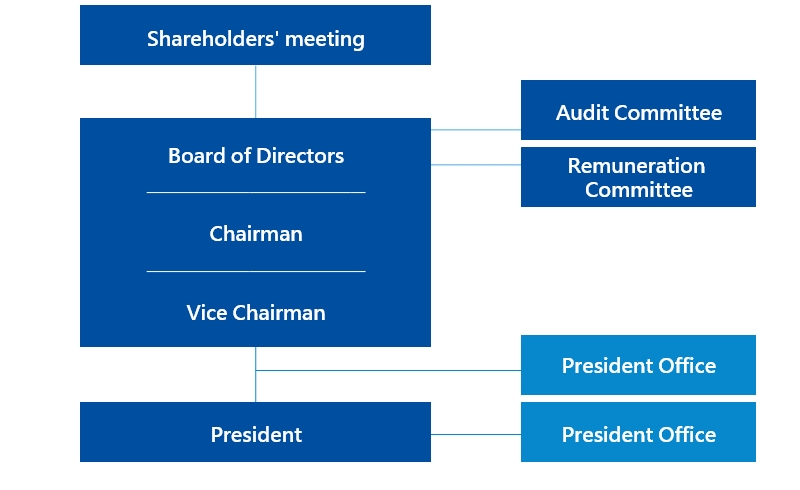 1
Our Audit department is an independent unit, reporting to the Board of Directors, and is composed of one Chief Audit Executive and two auditors who are qualified to the requirements of the Financial Supervisory Commission (FSC) and complete Internal Audit professional course every year. The list of Internal Audit personnel is reported in the Market Observation Post System by end of January each year.

2
We establish internal control system and internal audit implementation rules based on the Regulations Governing Establishment of Internal Control System by Public Companies stipulated by Securities and Futures Bureau.

We develop annual audit plan based on the risk assessment which includes law & regulation compliance, acquisition & disposal of assets, derivatives trading, capital lending, loaning of funds, endorsements / guarantees, business transaction management of stakeholders, supervision over subsidiaries, information & communication security, sales and payment due collection cycle, and procurement and payment cycle.

Our Audit department examines the company's internal audit system based on the annual audit plan. The audit report will be attached with working paper and supporting document. The audit findings will be followed up periodically and a tracking report will be prepared. After approval, the audit report and tracking report will be presented to the Independent Directors for review within the time stipulated.


3
Our Audit department reviews the self-audit report performed by each individual units and subsidiaries every year; along with the findings of defects and irregularities and its improvements during the audit which are the primary base for the Board of Directors and the President's evaluation of effectiveness of internal control system and the declaration thereof.
4
We report the following items online within the timeline based on the stipulation of Securities and Futures Bureau:
Annual audit plan of following year by end of December.
List of internal audit personnel by end of January.
Status report of the previous year's audit plan by end of February.
Disclosure of the previous year's statement of internal control system by end of March.
Report of the previous year's improvement of defects and irregularities by end of May.