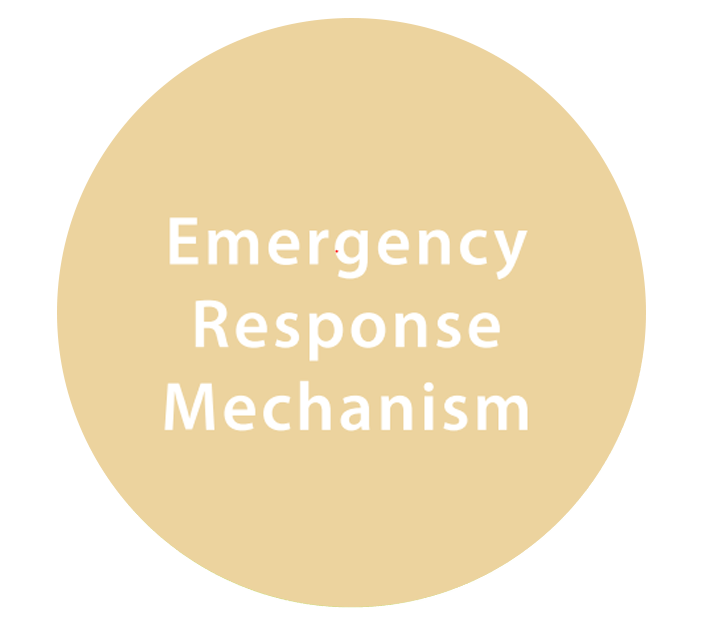 To strengthen emergency response for risks associated with processing, operations and transportation, which might occur at any time, the company regards product type and departmental accountability to proceed with comprehensive simulation and preparation for the probable accidents. A contingency plan is formulated and practical exercises, announcement, education and training are arranged to help on-site staff quickly appreciate the situation at an accident scene and react effectively, so as to minimize the damage of the accident and its effect on people and the environment.
Emergency Response Plan
The OUCC has prepared an "Emergency Response Plan" for the prevention of occupational accidents and the protection of employees against fire, leaks, typhoons, floods, earthquakes, war, transportation accidents, and to deal with notifications, evacuations, rehabilitation and so on. Regular drills and contingency measures are organized to cope with disasters that might occur, and to take immediate action in the event of an accident in an organized and systematic way to minimize damage and loss, and to protect employees' safety.

In the event of a disaster or an emergency, the internal and external reporting procedure is immediately activated in accordance with the "OUCC Emergency Response Reporting Process." In addition, the following comprehensive emergency response protocols are used to ensure that all employees will respond in the same coordinated way in the event of an accident:
The OUCC field pipeline leak emergency response principles
The EG Plant raw materials field pipeline transportation procedures and nonconformity process
The OUCC Linyuan Plant "Rules Governing Oxygen and Nitrogen Gas Transmission Pipeline Nonconformity"
Nitrogen gas pipeline leak emergency response plan
Emergency Response Training
Potential manufacturing process and transportation accidents at OUCC are likely to involve chemical spills, fire, tanker accidents, and explosion. An emergency response team was established to reduce the accidents of chemical leaks. The task force arranged the groups according to the nature of the emergency response needed. We are confident that the members selected have sufficient knowledge and experience to effectively reduce the impact of an emergency and to control the escalation of any such incident.

OUCC carried out 393 hours of off-site "Emergency Response Team" training covering general emergency response exercises, fire-fighting equipment operation, and mobilization of the emergency response teams by external experts. Staff from the Linyuan fire brigade were invited to instruct our personnel in the operation of the plant fire-fighting equipment for a total number of 23 participants in 2020. In addition, a two-stage process, 4 emergency response training courses, were held for all staff in the Linyuan plant in the first and second half of 2020, for a total of 54 participants.

To ensure a convergent result for each emergency response, all emergency response plans including compound disaster were consolidated into one in the event of fire or leakage, while emergency response team members composed and operation procedures standardized (SOP), to guarantee the comprehensive countermeasuring mechanism and reinforced capability can be fully employed upon emergency.
Emergency Response Training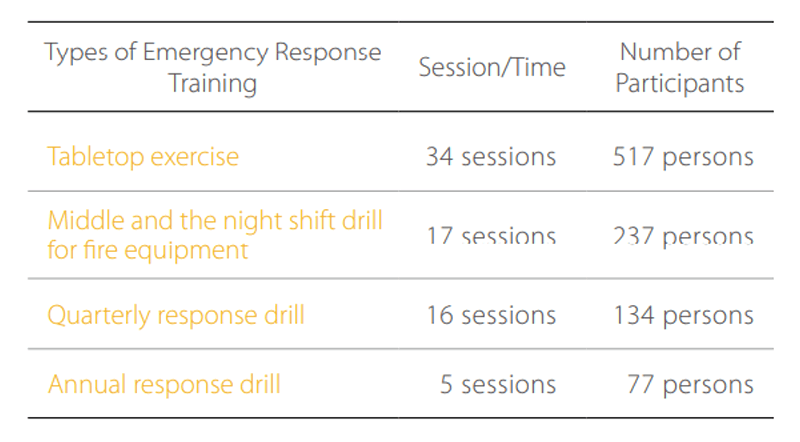 Compound Disaster Prevention and Emergency Response Plan