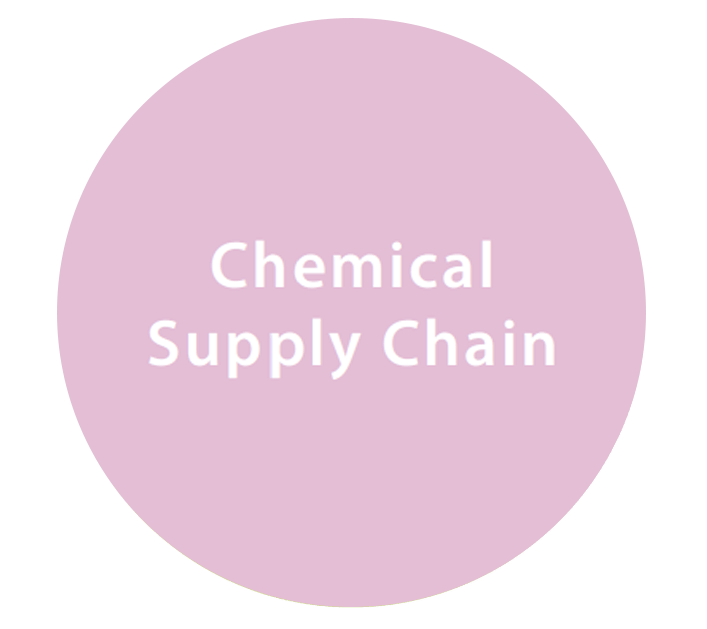 In addition to continuously optimizing the supplier management process, OUCC strengthens the supplier partner selection mechanism and strives to reduce the negative impact on the environment or society, so as to ensure the labor conditions, environmental behavior and business integrity of suppliers, and to fulfill the supplier's responsibility for sustainable management.
Sustainable Supply Chain Management
To ensure the integrity and sustainability of business cooperation, OUCC has set up management policies such as "Rules Governing Suppliers" and "Environmental Safety and Health Policy" for supplier management. Suppliers must comply with the "Petrochemical Industry Codes of Conduct". The declaration of compliance with environmental policies and an environmental impact assessment must be signed and sealed, and returned to the Company by all suppliers.

During the implementation phase of the contract, we will adhere to the relevant regulations, set higher environmental and occupational safety and health standards for the petrochemical industry, and build a solid and sustainable chemical supply chain.
1. Strengthen Sustainable Communication and Promotion
To strengthen the awareness and execution of corporate social responsibility of the suppliers and contractors, we have worked closely with on labor, health and safety, environment, management, and business ethics to establish a comprehensive supply chain mechanism, as well as lead supplier partners to commit to sustainability.

In addition, we proactively communicate with our suppliers, encourage them to enhance their management in breadth and depth, and combine the internal strength from the management of the Company and the external supply chain partners to ceaselessly strive for the CSR. We will continue to maintain a good partnership with our suppliers, and actively invite our suppliers to respond to social welfare activities and join hands to become a positive force of the society.
2. Sustainable Management Mechanism
To ensure that suppliers can understand and to give OUCC a better grasp of supplier sustainable development, we have designed a CSR self-assessment questionnaire. All our new suppliers are also required to sign a letter of commitment. This helps our suppliers understand the content and requirements of the relevant policies and also ensures that they join us in a commitment to CSR and its implementation.
3. Evaluation Management Audit
This OUCC audit process includes record and field evaluations to ensure that suppliers are in compliance with all the relevant laws and regulations. Existing suppliers must receive and complete an annual evaluation, the items evaluated included company management, quality, delivery time, price, service, and environmental safety. Suppliers were listed as qualified only if their rating score reached a specific standard.

Should an evaluation or material incident occur that rated disqualification and also resulted in damage to the company's reputation, labor safety, product quality, or manufacturing operation, the supplier would be listed as disqualified and suspended. In 2020, 685 trading suppliers underwent written evaluations and 1 were disqualified, the qualification rate was 99.9%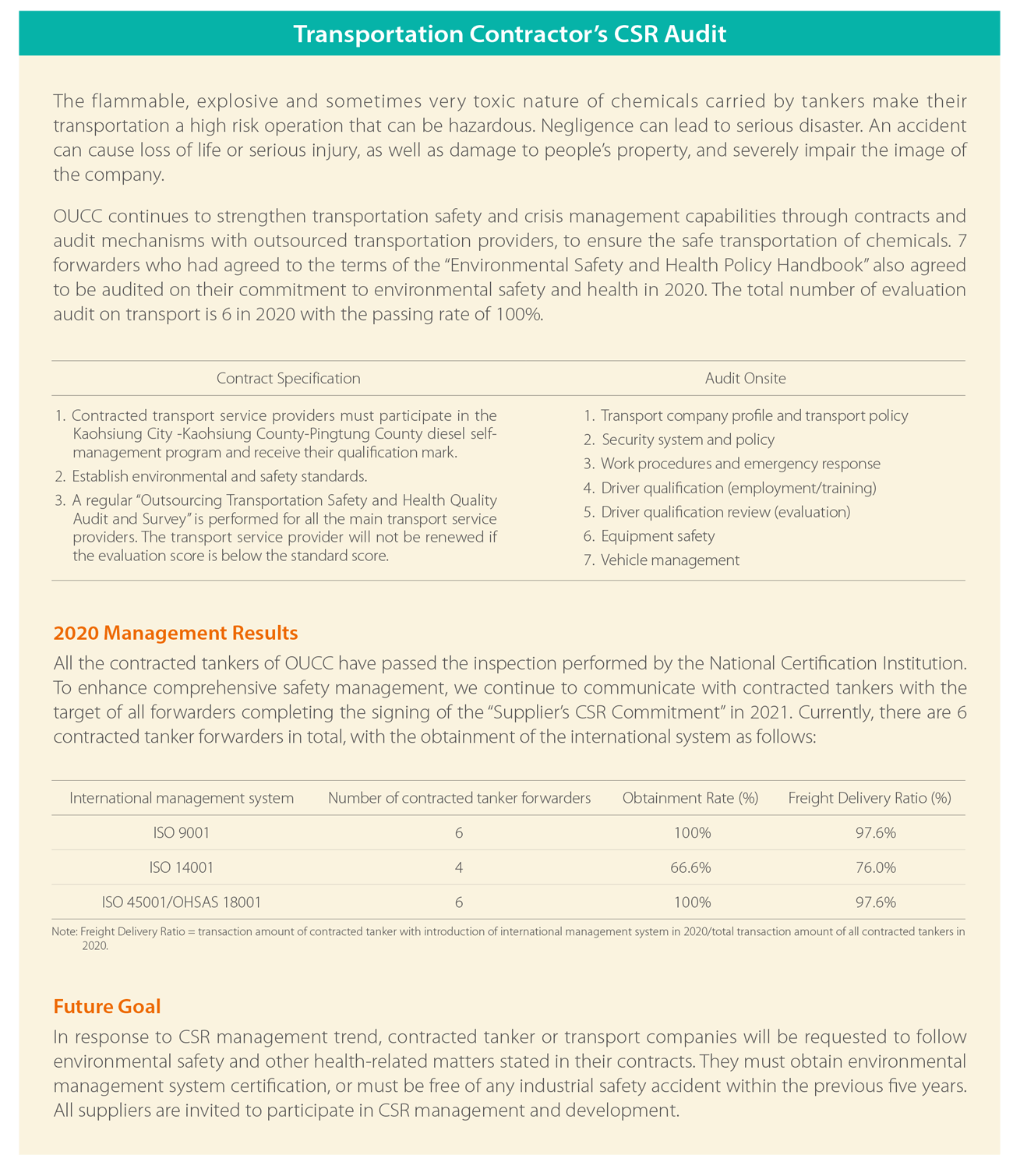 Enhance Safety Promotion
"Contractor Work Safety Rules" have been formulated to ensure the safety of personnel and equipment in the plant area. The rights and obligations of contractors working in the plant are specified in detail. One of the requirements is that all contractor employees entering the plant premises be qualified and hold industrial safety certificates to ensure the safety of personnel as well as the work environment.

OUCC organizes the Contractor Safety Conference regularly to conduct two-way communication on safety matters through the meeting. First, the OUCC internal units will conduct announcement, such as factory regulations, environmental safety operations main points, etc., and conduct co-experience sharing of the OUCC supervision and contractor management. Lastly, we provide temporary motions to submit the discovered problems and review followed by improvements to ensure the safety of the workplace. In the 2020 Safety Conference, the matters promoted and announced by the Environmental Safety unit were:
COVID-19 restriction measures
Fire operation to take measures to prevent sparks from flying out
Propagation of news about accidents and other incidents in neighboring factories in the Industrial Park
Safety guidelines for climbing operations on pile drivers
Contractor Safety bi-weekly meeting, supervisor and report in rotation schedule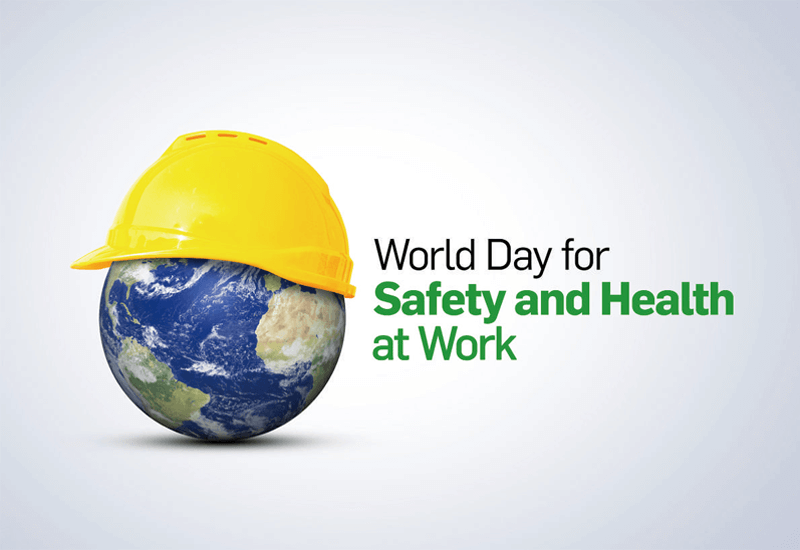 Preference for Local Suppliers
In addition to its own production, OUCC prioritizes the procurement of its main raw materials such as ethylene, oxygen, ethylene oxide, liquid ammonia and fatty alcohol from selected domestic suppliers and uses imports as a supplement. In 2020, local procurement amounted to NT$1,153.209 million, accounting for 85%(Note 3), which effectively promoted economic development in Taiwan.
Note:
1. Domestic suppliers are defined as manufacturers in Taiwan.
2. The purchase amount does not include raw and auxiliary materials.
3. 2020 Percentage of procurement amount from domestic suppliers = procurement amount from domestic suppliers in 2020/total procurement amount in 2020 x 100%.
Strive for Green Procurement
OUCC's practice in green consumption starts from its procurement, which specifies the equipment procurement standards with priority over products with energy-saving and water-saving labels or other eco-friendly labels which are approved by the government. For example, the energy efficiency of electrical motors must comply with CNS14400 IE3. Green procurement ensures that the goals of power-saving, water-saving and a reduction of energy consumption are promoted. The 2020 procurement list shows the cost of the motors and equipment that complied with IE3 specifications reached NT$67.506 million; green procurement in the equipment category was 9.31%. (Total procurement expenditure in the equipment category in 2020 was NT$724.888 million.)